Frequently Asked Questions
Got questions? I've got answers!
What type of self-defense do you teach?
---
This is probably the #1 question I am asked. I get it, though. Most people hear the term self-defense and they immediately think of punching, kicking, and martial arts. Although I do have martial arts experience, what I teach is not a martial art or sport combat. I teach for the real world using trauma informed, evidence based, and victim centered training methods to address gender based violence specifically. I teach simple, practical and empowerment based strategies for risk recognition, boundary setting, verbal de-escalation and physical defense. My teachings are based on the methods of IMPACT Personal Safety, FAST Defense, and ESD and have been informed by violence prevention experts like Gavin de Becker and research studies (including psychology and neurobiology) spaning decades. I have hundreds of hours of training in full force, realistic scenarios that are adrenaline based with equal focus on verbal and physical components. It's important to note that there are no guarantees. We can each only do the best we can to manage our safety and live our lives as confidently and freely as possible. Self-defense isn't about what you should do, it's about what you can do! I teach verbal and physical skills in an upbeat, positive and fun environment that can be executed by anyone of any gender, body size, height, athletic ability, etc. I will show you how to use your own body to help you get to safety as quickly as possible. In any of my programs, there are no fancy moves or complicated steps to memorize which means after one of my 60-75min sessions you'll have skills you can start using immediately in your own life.
---
How do I book you for an event?
---
I'd love to come and speak at your event! Contact me with your potential dates and the program you're considering and we can discuss pricing and work on making it happen. If you're not sure what program you want, contact me and I can customize something especially for your group! Although most of my presentations are booked by organizations/companies/schools, I can work with individuals, families, groups of friends, etc. There is no audience too small or too large for me to empower!
---
What is Girls Fight Back?
---
Girls Fight Back is the world renowned personal safety and self-defense program that was founded in 2001 by Erin Weed in honor of her friend Shannon McNamara. We have reached and empowered over 1 million people around the world with our speaking events over the last 20 years. I took over the company as CEO/Owner in 2020 and I am dedicated to continuing the mission of empowering women, girls and people of all genders to be their own badass! I have developed other programs in addition to our original, Girls Fight Back seminar, to address the needs of diverse communities around the world. Check out our trailer here!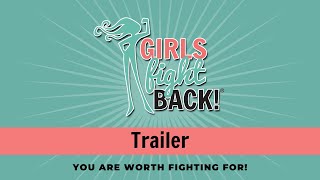 ---
Do you work with individuals?
---
Yes absolutely! Although most of my events are booked by groups, I can do one-on-one private sessions either virtually or in person. Contact me for pricing!
---
How do I sign up for a class/workshop/event?
---
I get this question a lot. 99% of my keynotes & programs are booked by private groups and are for that specific college, campus, corporate workshop, military installation, organization, private group, etc. so they aren't open to public registration. However, I do also work with groups that arrange virtual sessions that ARE open to the public. Stay tuned to my IG and FB pages and my newsletter where I will announce those classes and how you can sign up to take one! Check my Link Tree for the most current offerings. If you would like to organize your own private event with me for you group, you can reach out to me on my contact page.
---
Do you only teach women or do you teach men, nonbinary & trans individuals too?
---
I can and do teach people of all gender identities! Everyone is welcome! All of my programs can be customized to be gender inclusive or to address specific concerns related to how someone identifies. No matter how you or your group identifies, I would be delighted to teach you how to be your own best protector! Most of what I teach is applicable to people of any gender and I address specific contexts when needed. I believe that we all can benefit from learning the basics of how to defend ourselves along with how we can be better allies to each other.
---
Where are you located?
---
I can be anywhere that you need me to be for an in person event! I will travel to your location anywhere in the world to empower your group.
---
Isn't teaching self-defense victim blaming?
---
Absolutely NOT. Victim blaming is WRONG. Rape, violence, and sexual assault are NEVER the fault of the victim/survivor. And, if you've ever lived through violence I hope you know that it was not your fault and you didn't do anything wrong. Whatever you did to survive your situation was the right thing to do. I view (and teach) self-defense as a way to give us all choices and options so that we can live our lives fully and freely and not have to limit our lives to feel safe. It is about empowerment and my perspective is that learning self-defense can open up access to the world in a way you may not have had before due to fear and societal myths. As a survivor myself, I know what self-defense has meant to me and my healing process and I have had many survivors share similar experiences with me about how it helped them as well. To fight back or not is a very personal choice and if you are reading this now, you are a survivor. There are 3 main responses that our body has to danger/trauma/adrenaline: fight, flight and freeze. All three of these are normal reactions and none of them should be used to blame a survivor for how they responded to their unique situation. I believe in knowledge and empowerment. I believe in giving my audience members the tools to fight back if they choose to do so if they are ever faced with a serious violent confrontation. We don't want to avoid preparing for the possibility of violence by pretending it doesn't exist. In an ideal world, no one would need the self-defense skills I teach; but until we live in that world, it is a gift to be as knowledgeable as possible on being your own best protector. Self-defense is about giving you options in how to respond to a situation. It's about developing confidence in our own ability to use the weapons on our body to protect ourselves in a dangerous encounter. I believe everyone can benefit from knowing how to fight, but self-defense isn't about what you SHOULD do it's about what you CAN do. It's up to the individual whether or not to bust out your moves but knowing HOW to fight at least gives you the choice – which is empowering. It's important to remember that "fighting back" isn't just about using physical force. Fighting back is also a mindset in which we refuse to ignore danger and we choose to actively protect ourselves by honoring our intuition, using strategies to be a bad target in all aspects of our lives, setting personal boundaries that work for us, and knowing how to use a verbal attack to try to ward off a physical confrontation. I believe that the best fight is the one never fought and physical self-defense is often a last resort option to protecting ourselves. In addition, research shows that women using physical and verbal resistance are more likely to avoid completed rape and are no more or less likely to be physically injured. In fact, learning self-defense has been shown to reduce the risk of experiencing violence by up to 50%. No one can ever tell someone what the right choice is for them in any given situation; and that is why I want each of my audience members to be empowered to be their own best protector in all aspects of their lives. The skills I teach can also be used daily in situations such as catcalling, bullying, negotiating with salespeople, setting boundaries in relationships, dealing with social situations when out on the town or on the trail, and much more. You are worth fighting for!
---
---
Contrary to popular myths, you don't need a black belt or years of training to be able to

defend

yourself!